Klaus Beetz - EIT Manufacturing
Klaus Beetz - EIT Manufacturing
2020-04-15
4 min read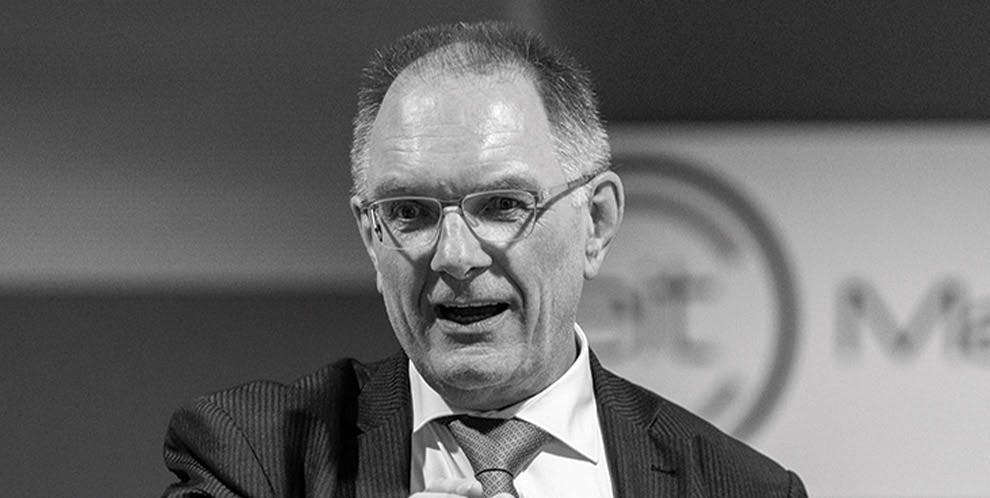 Q. Can you give me some background on EIT Manufacturing and its aims?
EIT Manufacturing is one of the Knowledge and Innovation Communities (KICs) established by the European Institute of Innovation and Technology (EIT). This institute was formed in 2008 to strengthen Europe's ability to innovate as a part of Horizon 2020, the EU's framework programme for research and innovation.
The institute introduced EIT Manufacturing in 2018 to support innovation and entrepreneurship in the manufacturing industry. As much as 30 per cent of Europe's GDP still depends directly on manufacturing and more than two million companies are currently active in this field. Over 90 per cent of these are SMEs.
Our goal is to support these businesses by creating a network of manufacturers ranging in size from start-ups to large corporations, academia and research facilities to add unique value to products, processes and services.
Most businesses are currently investing in new processes and technologies that will help them on their journey to the digital economy, the circular economy and the decarbonization of industry. We built the EIT Manufacturing network to provide European businesses opportunities to upskill and reskill their workforce and integrate advanced technology in their facilities as they make this journey.
Q. How do you engage with manufacturers to achieve these aims?
We currently have around 50 partners including universities and manufacturing businesses across a range of sectors, such as automotive and aerospace, robotics and consumer goods. Working with all these sectors give us a unique perspective of the industry and allows us to find truly innovative ways to improve efficiency across the manufacturing sector.
In the future we plan to increase the number of partners and to integrate SMEs and Start-ups as activity partners so that they can participate on a project base without having to become a member of the EIT Manufacturing Association. We are also currently looking to support local ecosystems in EU member states to build innovation hubs. For example, we plan to partner with factory laboratories and start-up accelerators to enrich their current services and allow businesses to better understand and develop advanced technologies for their unique facilities and applications.
Q. What challenges do your members typically face and how do you help them to overcome them?
More advanced technologies are developed every day to help manufacturers digitalise their processes. However, it is not always clear how businesses can integrate these technologies into their facility and use them in daily production.
When planning to implement Industry 4.0 technologies, each business must ask itself three questions:
- How can the technology improve my product? How can I enrich my product with digital capabilities?
- How can I make production more efficient and more flexible?
- How can I develop new smart services with the data this digital technology collects?
After answering these questions our members can also visit innovation hubs to understand more about the technology and see how it could integrate into their current system.
"
When planning to implement Industry 4.0 technologies, each business must ask itself three questions.
"
Q. What do you think has been the biggest technology innovation in the last ten years?
The manufacturing industry must constantly innovate to survive the changing market, so many technologies have been developed in the last decade. In my opinion, mathematical modelling and simulation, or digital twinning, has made the biggest difference to the industry.
This technology has helped to bridge the gap between the physical and digital world, enabling manufacturers to enhance production and improve efficiency and quality. Mathematical modelling now allows us to accurately calculate flow of air or liquids, heat transfer, movement of mechanical parts and accurately predict processes along the assembly line. Digital twins also helps businesses to test and retest new, innovative processes until they can perfect them.
Q. How do you expect the manufacturing industry to change in the next few years because of technology?
Automation is already allowing manufacturers to develop more flexible production lines and optimise their processes to reduce waste, reduce energy usage and improve accuracy. The automotive industry, particularly, is demonstrating how automation can build a flexible line to produce high volumes of different goods on the same line and how to implement mass customisation on a mass scale.
As more businesses meet global goals to reduce emissions, we may also see manufacturing become cleaner. Facilities will begin eliminating waste and noise but also creating flexible lines that can produce multiple product lines using less equipment and a smaller infrastructure. In the next few years we could build factories in city centres to support the growth of the industry and deliver more goods to meet demand.
Q. A fun question to end on, who is your tech hero?
I admire the work of John Harrison, a self-educated Scottish clock maker who helped to solve the most important issue of his century — accurately calculating longitude.
Harrison lived in an era when trade and navigation was increasing rapidly, and countries relied on the sea to deliver goods. However, an inability to calculate longitude led to numerous shipwrecks. Harrison invented the marine chronometer that accurately determined longitude by keeping time in the reference place, increasing the safety of long-distance sea travel and revolutionising navigation.
To me, Harrison was one of the inventors who's work signified the starting point of modern times in manufacturing. He was a genius craftsman and a real innovator who also made a successful business from his skills.
Did you find this article helpful?