Unifying sustainability goals
2023-02-01
4 min read
Sustainability continues to be both a priority and an area of concern for manufacturers in 2023. Businesses are expected to keep up with demand and deliver products at higher speeds with the added pressure from governments to produce parts sustainably. As sustainability regulations continue to reduce emissions and waste, businesses have the opportunity to seek innovative alternatives with less impact on the environment.
Singapore has recently set out corporate climate and board diversity disclosure requirements to encourage companies to be more aware of their impact and evaluate how they allocate assets. The requirements force most businesses to conduct an internal review of their sustainability reporting processes and all directors must undergo a 'one-time training' on sustainability.
Sustainable business development
According to Forrester's study of 'The State of Environmental Sustainability Among Large Organizations In Asia Pacific,' while only 33 per cent of the APAC firms Forrester analysed have named a sustainability lead, 53 per cent have established a target date for the partial or total elimination of greenhouse gas (GHG) emissions, consistent with the global average of 55 per cent.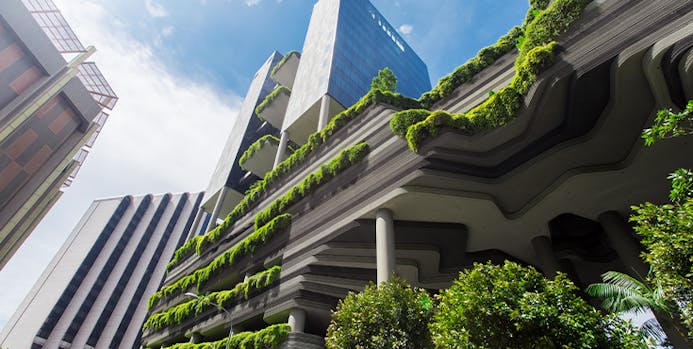 Singapore has always maintained a balance between development and conserving the environment. Successive environmental blueprints, such as the Singapore Green Plan 2030 and the Sustainable Singapore Blueprint (SSB) 2015 have set forth various strategies and initiatives to achieve economic growth and a good living environment. For example, over 95 per cent of Singapore's electricity is now generated by natural gas.
Establishing goals
A key factor in sustainability is the difficulty to unify goals, both between businesses and on a global scale. There is no 'one size fits all' solution when it comes to achieving sustainable development — economic standings for example, control many of the larger changes countries can make. Many goals are top-down and ignore local context which can affect local markets, halting business growth.
Developed and developing countries also have different standards when it comes to requirements and environmental regulations, that makes creating a baseline difficult. This is often due to lack of data, monitoring infrastructure and institutional support. As a result, global requirements are often too ambitious and instead affect trade and add market restrictions to developing countries.
These factors often make it difficult for businesses to know where to begin. Particularly for the manufacturing industry, where fast production cycles are crucial, it is difficult to create greener production lines while keeping productivity high
Get ahead of goals
The circular economy model is a great starting point for manufacturers looking to reduce waste. Incorporating its principles improves the environmental impact of manufacturing by using reconditioned parts. At the end of their service lives, products and materials are recovered and regenerated to keep resources in use for as long as possible. Using reconditioned parts can both minimise material waste and energy losses, and reduce the risk of overall system obsolescence.
Solar panels are another alternative businesses can use to reduce carbon emissions. They comprise smaller units called solar cells, which are made from semi-conducting materials, typically silicon. Unlike fossil fuels, solar power uses no pollutants and needs no other resources to function other than clean water. By reducing their dependence on the national grid, businesses can drastically cut down on electricity costs.
Finally, investing in smart factory technology can be crucial to manufacturers' sustainability goals by enhancing efficiency and flexibility. For example, analysis and monitoring technology can help avoid bottlenecks within production chains, while predictive analysis can prevent last-minute failures and costly downtime emergencies.
Implementing Industry 4.0 technologies into existing plant setups can encourage businesses to embrace digitised sustainability with less cost and fewer resources. Greater sustainability can also be achieved through big data to create digital twins and digital threads to help companies make better use of their resources.
With this added visibility, manufacturers can feed live product performance data back to the design team and improve the quality and performance of new designs. Smart factories give manufacturers endless opportunities to adjust business models, improve operations and embrace sustainability as the secret to success in times of turbulence.
Overall, sustainability initiatives offer reduced business costs, more innovative strategies, improved reputation and the prospect of new customers who value sustainability. Low-impact alternatives also increase productivity, so manufacturers can streamline production.
Did you find this article helpful?