Making zero waste factories a reality
2020-04-15
2 min read
Concerns about how the manufacturing industry impacts the environment are growing. Manufacturers are now under a lot of scrutiny from consumers and governments to adopt new practices that improve sustainability. Here, we look at some of the facilities leading the way in reducing emissions while remaining competitive in their sectors.
The 2019 Retail and Sustainability Survey from global business applications provider CGS found that two-thirds of respondents consider sustainability an important factor when making a purchase and are willing to pay more for ethical products. As consumers and organisations grow increasingly aware of environmental issues, manufacturers must do more to meet customer demands.
All manufacturers can benefit from improving sustainability because it can also improve efficiency and reduce costs. However, the industry cannot eliminate its carbon emissions overnight. Sustainable manufacturing is a continuous journey that requires business owners to review their processes. Manufacturers can then start making changes to design and produce high quality goods using less materials, less energy and more ethical methods.
There is no single way to become a sustainable company — businesses must take the time to find processes that work best for their facility and application. Instead of following a single route, manufacturers can look to companies that are already leading the way in sustainability for inspiration.
Unilever
The company's Sustainable Living Plan sets targets to reduce impact on resources such as energy, water and raw materials across production.
Unilever has invested in automation and deployed intelligent technologies at scale to cut production costs to meet its goal to halve its environmental impact in ten years.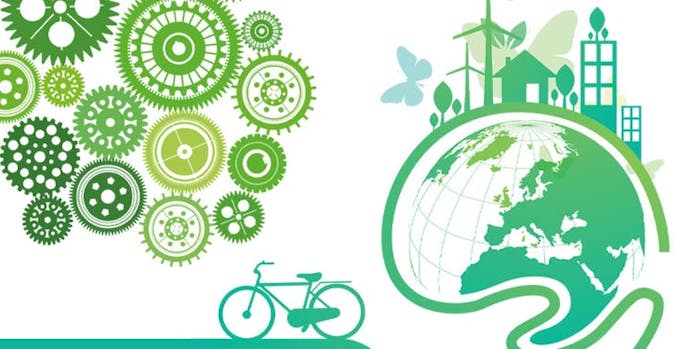 IBM
Sustainable practices have been a part of the company's mission since the 1960s. Its data centres have received awards from the European Commission for long-time energy efficiency successes.
Today, IBM focuses its efforts on developing smart buildings that reduce resource demand and use green procurement, water resource management and more.
Volvo
In 2018 Volvo opened its first climate neutral manufacturing plant, marking a significant step towards the company's goal to make global operations climate-neutral by 2025.
The plant uses heat generated from waste incineration, biomass and recycled biofuels and electricity supply comes from renewable sources.
Schneider Electric
This global specialist in energy management and automation has set out to invest over ten billion Euro in innovation and R&D for sustainable development between 2015 and 2025.
By applying circular economy principles to all areas of the company, it was able to reduce carbon emissions by 130,000 tonnes between 2017 and 2018 and now has 13 net zero carbon buildings.
Henkel
This German company has supported environmental and social progress for over 140 years. It aims to create more value for customers, suppliers and communities it operates in while reducing its environmental footprint.
Henkel recently developed a cloud-based data platform to connect more than 30 sites in real time to meet growing consumer demand as well as improve sustainability and reduce cost.
Did you find this article helpful?