Building tomorrow with yesterday's parts
2023-02-06
5 min read
According to the National Environment Agency, almost 7 million tonnes of waste was generated in Singapore in 2021, of which 55 per cent was recycled. If the world is to meet emissions targets, much needs to be done to decrease waste and increase recycling.
The use of recycled and re-purposed goods has seen a surge in popularity in recent years, as resale websites such as eBay, Vinted and Depop have made it easier and more fashionable than ever. However, fashion and consumer goods are not the only things that can be successfully repurposed. Repurposed parts have been a staple of the manufacturing sector for years, and have many benefits over new parts. These benefits are now more relevant than ever in light of recent world events, such as the current difficulty to source raw materials and automation components.
The supply chain crisis that has hit the manufacturing industry in recent years has had a profound impact on OEMs. As they struggle to source the components they need, delays are inevitably passed on to the customer, who may end up waiting months for a single new part for their machine. Buying reconditioned parts mitigates this problem, as they are already manufactured and simply need to be delivered. In this way, downtime can be drastically reduced. However, speedy delivery is not the only benefit of buying reconditioned rather than new.
Go reconditioned to reduce emissions
Global efforts towards a green future have begun in earnest in recent years. To make sure that emissions targets are met, stakeholders are beginning to take action at all levels of business. The Greenhouse Gas (GHG) Protocol — the world's most widely used greenhouse gas accounting standards — separates GHG emissions into three 'Scopes'. Scope 1 covers emissions from controlled sources, such as burning of fuel in machines and company vehicles, while Scope 2 includes indirect emissions from purchased electricity. Scope 3 encompasses all other indirect emissions that occur at any point within a company's value chain.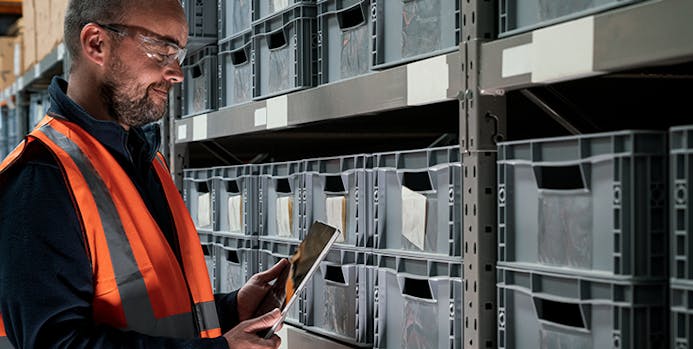 When it comes time to replace a part in your machine or system, there are a number of considerations that arise from Scope 3, as all of the emissions associated with a components' production have to be considered. This includes emissions from raw material extraction, processing and transport, as well as all associated waste produced. Reconditioned parts have a huge upper hand when it comes to Scope 3 emissions, as they don't require the raw materials or processing that a new part does, or any of the associated transport, except delivery between supplier and manufacturer, and so generate far less emissions and waste. If willing to delve deeper down the Scope 3 rabbit hole, manufacturers can also consider all emissions produced by the company selling the reconditioned part they wish to buy.
Not all repurposed parts are created equal
So, new parts are out and repurposed parts are in? While the latter seem to have everything going for them, being cheaper, more environmentally friendly and more easily available than newly-manufactured parts, they come with their own considerations.
Before we continue, it is important to make some distinctions between different types of repurposed parts. Repurposed parts generally fall into one of three categories; used/second-hand, refurbished/reconditioned, or remanufactured. While no universally-agreed definitions exist for the restoration processes involved in any of these categories, second-hand parts can be considered to be parts that haven't undergone any form of restoration or quality checks, reconditioned parts have typically been cleaned and repaired to an internal standard, whereas remanufactured parts have typically been brought in line with original equipment manufacturer (OEM) specifications and are the highest quality repurposed parts.
The truth is, second-hand parts, that is, used parts that don't carry the reconditioned or remanufactured label, can in rare case perform as well as new, but can equally be old and decrepit. These parts pose the highest risk of failing quickly, and some used parts may arrive defective or not even fit your system at all.
However, even parts that carry the reconditioned label can also vary drastically in quality. The reconditioning process can range from a few simple tests to determine a parts' functionality, to a complete part audit and replacement of any worn or defective components.
Without a reliable partner to help them, manufacturers must navigate the confusing and sometimes opaque second-hand market on their own, to make sure that they are purchasing parts that will perform the job that they are expected to. Failure to purchase a quality part can be disastrous, and can result in repeated breakdowns, as well as compromising worker safety.
The best approach is to rely on a supplier that can offer information on the exact reconditioning method that has been applied to the part, as well as what tests have been done, what assurances they can make as to quality and lifetime of the part, and what warranties they offer. Only then can manufacturers be sure of the quality of the part they plan to purchase.
The supply chain crisis that has pushed many manufacturers to consider reconditioned parts is expected to end in a couple of years, but many anticipate that these parts will, or at least should, become increasingly popular, or some might say fashionable, in the future. As long as reconditioned parts are purchased from a reliable source, the benefits they offer in terms of reduced lead times, decreased downtime and sustainability are significant.
Did you find this article helpful?