AGVs on the loose
AGVs on the loose
2021-03-24
3 min read
If you have worked for the Canadian Broadcasting Corporation (CBC) in the past few years, you might have attended the retirement party for Basher, Rasputinand and the other three Mailmobiles employed there. Far from retiring, however, the modern AGV promises to revolutionise both local and longer distance logistics, particularly throughout the COVID-19 crisis. We look at the next steps for the AGV in the newly socially-distanced world.
The Mailmobile, originally from Lear Siegler of Learjet fame, turned out to be quite successful, finding employment in many organisations where physical documents and mail were used. Despite their brutalist appearance and assertive beeping, these automatic guided vehicles (AGVs) autonomously delivered mail around the CBC for a quarter of a century and also became quite popular with staff, particularly once given names and embellishments.
This mixture of a proven design and uncanny amicability meant that the Mailmobile was in production, with relatively minor design changes, for almost four decades from 1970 to 2016 — a boast that few other robots can make. Roughly 4000 Mailmobiles were delivered to USA offices throughout that time, and many are thought to still be working today.
Who let the AGVs out?
AGVs have been a feature of many industrial, office and commercial environments for decades, and they come in all shapes and sizes, from the humble robotic vacuum cleaner to full-sized forklifts and container tugs. Now, however, recent developments are pushing the boundaries of the AGV far beyond your carpet or personnel-restricted industrial environments.
Take the Starship self-driving delivery robot, for instance, as well as Amazon's proposed drone delivery service. The Starship AGVs have been delivering items around the UK town of Milton Keynes since February 2020. With a four-mile (6 kilometre) range, these low-speed, lightweight and pedestrian-friendly AGVs are proving the idea that robotics and human life can coexist safely.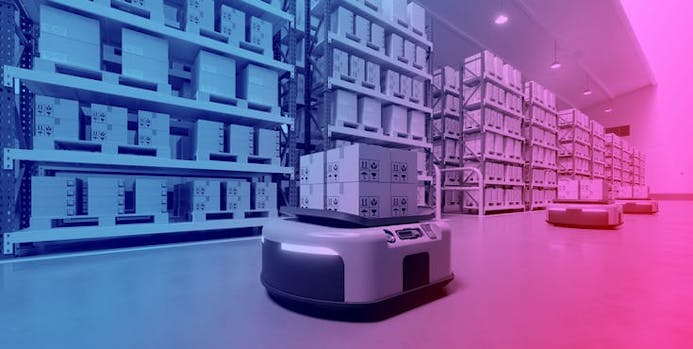 Coincidentally, the Starship AGV's introduction in early 2020 was well timed as the COVID-19 pandemic ramped up in the UK and social distancing guidelines were introduced, which highlighted the potential of the concept. An object example of this comes from a hotel in California, where its wine-delivering room-service AGV, Rosé, has turned "from a novelty to a necessity" under COVID-19 restrictions.
For many businesses, particularly restaurants, pharmacies and other face-to-face services, an autonomous delivery system such as this makes it possible to reopen and continue business safely, while adhering to biosecurity and social distancing guidelines.
What's next for the AGV?
If things continue along this track, the world will be swarming with AGVs all navigating to their next location, and as the Californian hotelier said, COVID-19 has put incredible pressure on businesses small and large to invest and accelerate AGV adoption.
So, while the AGV market is not new, the trend towards consumer facing and small business operated AGVs is certainly a recent development. Currently most AGVs are proprietary and come in volumes small enough to make manufacturer-side maintenance economically viable, but as time advances, we're likely to see the market develop in a similar way to the automobile and private garages.
In a mature market, AGVs will likely be sourced from original equipment manufacturers, but ongoing maintenance, replacement and repair will be done by licensed vendors. The second-hand, obsolete and spares market will also explode as the AGV generations pass into obsolescence over time.
Many of the businesses that look to employ AGVs for these purposes will be totally reliant on them functioning, akin to delivery drivers needing a working vehicle, so when a part failure occurs sourcing a replacement quickly is imperative. By working with an obsolete parts specialist such as EU Automation, we can guarantee supply and fast delivery of any new, obsolete and refurbished parts required for the AGVs you maintain.
Did you get the help you needed?