Plug and play technology
2019-07-29
3 min read
When shopping for a new watch, do you prefer a classic face or a smart watch with the latest technology? Sony developed the Wena watch strap so that consumers no longer have to choose one or the other. Similarly, manufacturers no longer have to choose between traditional processes and new technology.
The Wena watch strap is fitted with a classic face but has an OLED screen in the clasp where consumers can read messages. Both consumer and industrial companies are looking for new ways to improve efficiency and stay competitive in their respective markets. In manufacturing, companies are particularly focussing on how the adoption of new technologies can impact production.
Manufacturers understand the importance of embracing new technologies but it is not always practical. New technologies require a large financial investment that smaller manufacturers may not be able to afford. Even if the company can afford the technology, there is no guarantee that it has the skills in-house to efficiently use them.
Despite the cost, manufacturers should deal with demand for new technology now to remain competitive and prevent a lack of innovation from negatively impacting the businesses in the future. Manufacturers of all sizes should consider how they can introduce the right amount of automation for their facility, without completely overhauling the system.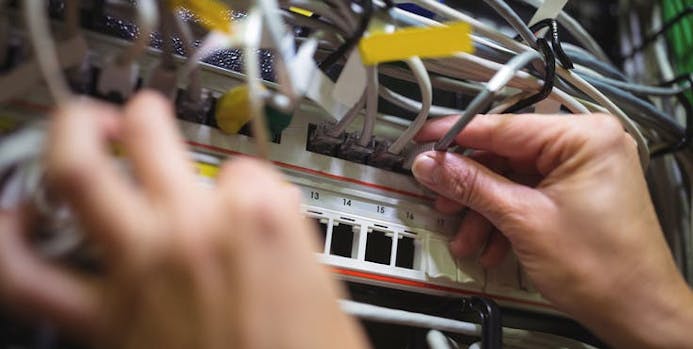 Benefits
Plug and play devices can help manufacturers improve productivity of existing assembly lines without the cost of replacing a whole system. These devices can be taken out of the box, added to the production line and will work on the line immediately without configuration or testing.
Using plug and play technology can simplify how manufacturers adapt and maintain the production line. Unplanned downtime can be costly for manufacturers, particularly if the machine requires a specialist maintenance engineer to fix it. By investing in plug and play devices, manufacturers can simply unplug and replace the machine without the cost of bringing in an external engineer.
These devices are easy to both install and remove from the production line, so manufacturers can quickly adapt the production line if necessary. For example, if manufacturers want to make a small batch of unique items for a customer, they can adapt the line and start producing a completely new product with little downtime.
Tasks
Manufacturers can invest in plug and play technologies for a variety of tasks across the facility. Collaborative robots are smaller and lighter than traditional industrial robots and are usually built with everything they need to operate, so manufacturers can simply add it to the production line, give the cobot instructions and set it to work.
Engineers can also use plug and play devices in warehousing applications. Wearables manufacturer ProGlove released the MARK, a hands-free scanner that removes the need for handheld scanners in manufacturing facilities. The scanner connects to a tablet to quickly share data in the barcodes and moves with the operator, boosting accuracy and efficiency.
Companies are also introducing plug and play technology that can improve maintenance. Engineers can install the MICA Industrial Internet of Things (IIoT) kit from Bosch and Harting to any machine to improve condition monitoring. It can be retrofitted to legacy devices and immediately be able to monitor its condition, alerting a maintenance engineer to any potential problems. Engineers can then contact their automation parts supplier and replace the equipment before downtime occurs.
You don't always have to buy the latest version of a product to have the smartest and most useful technology. Whether it is your wristwatch or an industrial robot, you can invest in plug and play devices to have the same capabilities of the latest technology without the cost of replacing an entire system.
Did you find this article helpful?