Human-machine collaboration — three lessons we can learn from Automate 2022
2022-06-08
4 min read
From June 6 to 9, 2022, thousands of stakeholders gathered at Automate, the industrial automation exhibition held in Detroit, Michigan, US. The show, the largest of its kind in North America, is considered one of the most influential for industrial automation and offers an overview of the most cutting-edge technologies for smart manufacturing.
Organised by the Association for Advancing Automation (A3), Automate brings together more than 500 exhibitors and thousands of attendees and stakeholders in smart manufacturing. This year, one of the main areas of focus was how to cope with the workforce crisis, through strategies that apply the latest automation technologies to cultivate a new talent pool while retaining the existing one. The Great Resignation, in which record numbers of employees started to voluntarily quit their jobs during the second half of 2020, made this a popular topic.
Among the many resources — from a Workforce Development Day, to keynotes on how workers can develop skills to work with tomorrow's evolving Industry 4.0 technologies — three main themes emerged. First, that flexible and easy to program solutions can engage and upskill employees. Second, that automation can lead to faster ROI and reduced staff turnover. Third, that true human-robot collaboration can be easier than ever before.
The future is flexible
Easy-to-integrate and flexible robotic solutions were front and centre at Automate. There was a conference program dedicated to collaborative robots, with new product releases announced by some of the biggest players in the sector. For example, Boston Dynamics, the manufacturer of Spot, one of the world's most beloved robots, announced some interesting new entries to the company's portfolio. That included dynamic and compact solutions designed to access spaces most robots can't reach while still handling large payloads, such as Stretch, a multipurpose warehouse robot which represents the company's first venture into warehouse automation.
However, many businesses are concerned about the complexity of commissioning and integrating a cobot. In answer to these concerns, Automate presented different deployment methods suited to all needs, including classic integration and customisable robots. There are also do-it-yourself plug and play solutions that require no coding at all. Robotiq, for example, offered a session comparing different integration methods, some of which include easy-to-follow tutorials showing how to set up a cobot's workflow simply by moving its arm in the desired direction.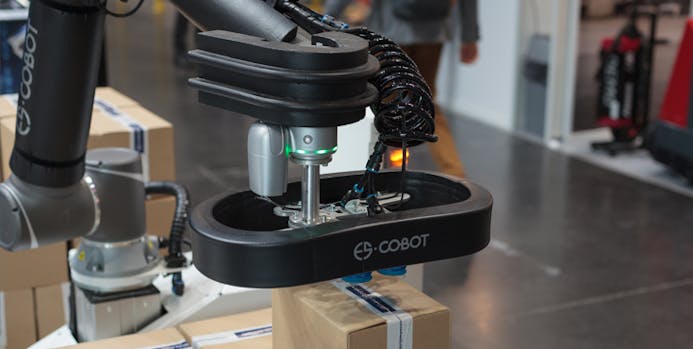 Quick ROI is a reality
The conference programme highlighted the need for robotic solutions that deliver immediate value and promise a faster return on investment (ROI). Silas Robertson from Olympus Controls suggested that some of the most cost-effective options are in applications such as welding, machine tending, palletizing, inspection and material transfer. These tasks, traditionally handled by human employees, can now be delegated to cobots. This speeds-up repetitive processes, while allowing people to focus on areas that require reasoning or fine dexterity.
In the midst of a global skills shortage, the conferences highlighted the need to leverage automation to retain employees. Lou Finazzo from FANUC stressed that manufacturers, when considering the ROI of robotics and automation, should go beyond cost reduction and consider other key variables. These include empowering skilled workers, improving staff engagement and morale, and promoting a cultural shift towards embracing future technologies.
The winning team
Finally, Automate stressed the need for applications that are truly collaborative, allowing humans and robots to get the best out of each other.
For example, Stu Shepherd, vertical development director at Universal Robots, explained that complex tasks such as welding are best managed by a combination of cobots and skilled humans working as a team. More specifically, cobots can take care of repetitive or dangerous steps, while humans focus on work that requires fine dexterity. He also argued that cobots can not only increase the productivity of skilled welders, but also help attract and retain talent in the field.
Several panellists also highlighted that cobots are now completely safe to work alongside people. They suggested that traditional restrictions imposed by safety guards can be removed to create a truly collaborative workspace. Moreover, the increased simplicity of some programming methods, such as hand guidance, means that employees can be empowered to work with technology they can control and understand.
Despite the workforce crisis and economic stagnation that are currently plaguing the industry, the solutions proposed at Automate 2022 give us hope for a brighter tomorrow in smart manufacturing.
Did you find this article helpful?