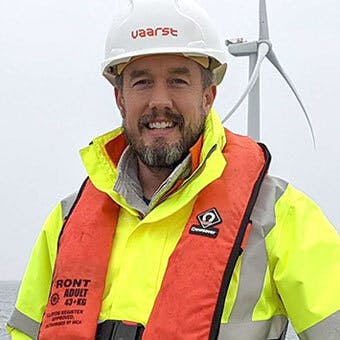 Please can you give me an overview of Vaarst and how the business was founded?
Cross... We're a technology company based in Bristol, creating products to support digital ambitions in the marine environment, through hardware and software solutions that work to reduce the cost and environmental impact associated with offshore operations. Collectively our technology can lower the cost of subsea surveys by up to 80 per cent through reducing the size of vessels chartered, the time they spend at sea, and the size of the team required to complete the task.
Although Vaarst only launched in March of 2021, its story begins in 2015 with our founder Brian Allen. Brian has years of experience in offshore marine environments, piloting remotely operated underwater vehicles (ROVs) for everything from pipeline inspection to treasure-hunting. His first-hand experience led him to the idea of upgrading the ROVs in use through a retroactively fitted real-time intelligent data collection system. Since then, our technology developed under the umbrella of its parent company Rovco and in 2021 we branched out as our own entity. Vaarst has gone from strength to strength developing new ways for customers, including major energy companies, to improve the efficiency of their offshore operations.
What are Vaarst's main products and services?
Cross... Vaarst offers four products. Our flagship product is the SubSLAM X2., a real-time intelligent data collection system used to create underwater point cloud data with perfect relative positioning and millimetre accuracy. It works by combining a pair of 4k image sensors to deliver live, scaled imagery and 3D point cloud models of surveyed structures to the highest level of measurement accuracy. The SubSLAM X2 goes hand in hand with our 3D live streaming platform, which gives our users access to survey and construction data in real-time, transmitted over a low bandwidth data link to any device via our Vaarst platform. This enables onshore survey teams to make informed decisions and recommendations while the work is taking place, whilst also enabling remote working instead of them being stationed on the vessel.
The video data collected and streamed by our technology can be hundreds of hours long. To speed up the data analysis process, we developed a platform that uses machine learning to recognise key features and abnormalities in image data, such as pipeline anodes and damage to subsea assets. The platform sorts frames by feature, grouping together those that warrant further investigation and those that can likely be ignored.
We also offer autonomy software enabling an autonomous cloud-connected future for all marine robotics systems. Our autonomy technology can be adapted to any underwater vehicle and enables ROVs to answer key questions such as: where am I now? What's around me? And where shall I go next? With this information, ROV can complete its tasks quickly and safely with minimal human assistance.
What is the main innovation you bring to the market?
Cross... The combination of the SubSLAM X2 and autonomy technology is what's set us apart in the market. It's the first data collection system to deliver such accurate 3D point clouds for live digital reconstructions and autonomous navigation and it's unlike anything else in the industry.
Since the introduction of ROVs in the 1970s, the technology used to complete subsea activities has improved but has ultimately remained tied to a very analogue approach. SubSLAM X2 has completely revolutionised subsea activity involved with offshore operations. Now that its capabilities have been enhanced through autonomy, SubSLAM X2 is perfectly positioned to take Vaarst into new and exciting territories.
What is the greatest challenge that the company overcame?
Cross... While the days spent testing our technology in all kinds of tough conditions have been challenging to say the least, the perception and acceptance of autonomous capabilities is the greater challenge we have to overcome. As I mentioned before, since the introduction of ROVs, there has been little innovation in the industry. Convincing those in and around the sector to embrace a new way of doing things has not been easy, especially in a business with multiple tiers of contractors and subcontractors.
Given the harsh working environment our technology operates in, the regulatory bodies concerned are cautious to allow any new technology. As a result of this healthy scepticism, AI and autonomy technology is yet to reach its full potential in the industry. However, we've been able to challenge the status quo to the benefit of all parties concerned and consequently, our business continues to go from strength to strength. As the industry becomes more receptive and adoption becomes the norm, the cost and emissions savings that result will be truly transformational for the energy sector.
How do your products and services tie into the growing use of automation in the industry?
Cross... We don't see Vaarst's future within the confines of just one industry and one environment. As more industries look to leverage autonomy, the applications and use cases for our technology will continue to grow. Currently, our solutions are deployed in the marine environment, but because our technology can be retroactively fitted to any robot or vehicle, we can expect to see it operating in a vast array of different verticals.
For example, our autonomy technology allows vehicles to be instructed to always maintain a minimum distance away from a designated target: even if a pilot were to accidentally steer full throttle toward a structure, the autonomy will step in and stop the ROV at the appropriate distance. This feature would be ideal if applied to a remotely operated drone surveying a construction site. The AI would guarantee the drone never collides with any obstacles, ensuring the safety of those on the site and the protection of the drone and the asset being surveyed.
We are constantly developing and testing our solutions so that when the day comes for full autonomy, Vaarst is ready.