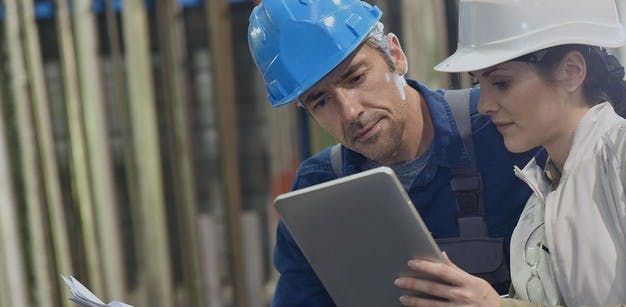 Trending tech for remote access
"There's an app for that". Encouraging the development of over 1 million mobile apps, Apple's ubiquitous catchphrase quickly became an icon of its time. Unsure what to have for dinner? Car broken down? Can't get to sleep? Don't fret, the app store probably has you covered. Even in the manufacturing industry, apps are finding a home as one of the best ways to access information.

Without doubt, it is much easier to obtain information by the single touch of a button than the traditional route of starting up a web browser, typing in a URL and navigating your way to the correct page. Accessible through the mobiles and tablets of its engineers, apps would appear to be the ideal solution for information access and visualisation in the manufacturing industry. Able to provide instant access to factory operations and a customised, on-screen view of the manufacturing facility, this solution is improving both efficiency and productivity.
Although apps are great for users and manufacturing organisations, developing the ideal app can be an incredibly lengthy process, especially when compared to browser-based alternatives. In both work and leisure environments, mobile apps are used to enhance and simplify even the smallest of daily tasks. With this in mind, it would be easy to disregard the technological intelligence of PC-based platforms as outdated in comparison. However, they are not as far behind as they may seem.
Today, the majority of factories will already have a number human machine interface (HMI) platforms installed. These HMIs will generally run off-the-shelf software packages, offering built-in HTML5 support. As the latest version of HTML code, HTML5 provides specific functions to better embed graphics, audio, video and interactive documents onto web pages, regardless of the device being used. As the majority of mobile device operating systems also use this new HTML standard, most HMI, PC-based and remote access devices will have no trouble accessing HTML5 platforms.
For organisations using mobiles or tablets to gain remote access to operating data, the HTML5 standard can prove to be incredibly useful. With the standard, organisations are capable of developing new, remote access screens and deploying these screens to the devices of their engineers. What's more, as HTML5 supports the automatic adjustment of web pages and content to suit any screen, the size or model of the remote device is irrelevant. For industries reliant on remote access to manage operations, such as the off shore oil and gas sector, this capability is vital.
Mobile apps may still reign supreme when it comes to trending technology, however, the write-once and deploy-many-times functionality of PC-based options may prove superior when it comes to managing facilities remotely. The introduction of HTML5 has already simplified the deployment of browser-based remote access – a priceless benefit for some manufacturing sectors. Inevitably, many manufacturing organisations will consider browser-based options to be long-winded in comparison to the instant on-screen accessibility of mobile apps. However, considering the lengthy development time – apps may not be the fast solution they may seem.
Providing seamless compatibility with mobile devices and easy access to factory data, browser-based applications provide an ideal solution to manufacturers across all sectors, especially those operating in remote locations. There may well be an app for everything, but for visualisation in the manufacturing industry, browser-based access could prove to be the better option.