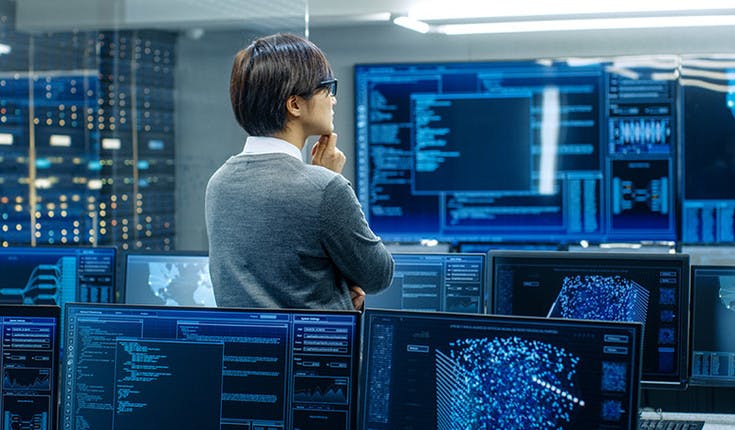 Data science: the future of automation?
A killer combination of proficiency in code writing, a client-oriented mindset and outstanding communication skills is what is required to excel in the Harvard Business Review's sexiest job of the 21st century — the data scientist. But why is this nascent role so in demand and what does the job actually entail?
There was a time when the amount and heterogeneity of data used by the average manufacturing company could be comfortably dealt with by standard data-processing application software. However, as technology improved, production managers started to feel the need for a professional figure that could identify patterns in the huge amounts of unstructured data suddenly available to them and use them to solve actual or potential problems. Enter the data scientist.
Big data interpreters
While the job title, data scientist, has only been around for a decade, thousands are already employed by tech-savvy start-ups and large corporates alike. However, the demand for data scientists currently exceeds the amount that is available. This, combined with the fact that there are limited academic paths into the profession, spotting, hiring and retaining data scientists can be a real challenge.
With a lack of paths into the field, where can we find our future data scientists? Statisticians, mathematicians or computer scientists are ideal candidates for the profession as data science is a highly interdisciplinary field in which techniques from statistics, analysis and machine learning are often applied at the same time. Besides having a solid data and computational background, data scientists need to be outstanding associative thinkers. Strong communication skills and the ability to clearly and concisely present the results of their research complete their profile.
Data scientists in predictive maintenance and automation
While predictive maintenance starts with sensors collecting data on the status of machinery, it is enabled by data scientists taking that data and turning it into something that can be interpreted by other members of staff — in this case, a maintenance engineer.
Data scientists can help uncover patterns in a machine's productivity to predict when it is might break down. For example, if a motor is gradually becoming more and more inefficient, it's likely that there is a problem. This kind of insight allows a maintenance engineer to carry out predictive maintenance, making repairs to machines and systems before they break down completely.
In this situation, it's important for maintenance engineers to act fast. Having a strong relationship with a parts supplier is a good place to start, as this gives them access to a range of components that can be ordered and stored in preparation for when the repair is needed.
Automating data science? Since data scientists are a hot commodity, it seems that the future of the profession entails automating some of the repetitive parts of the job so that the scientist can focus on the complex tasks that only a human can handle. While some fear that automation will lead to decreased job opportunities for data scientists, Forbes predicted two more encouraging, and far more likely, scenarios. : Firstly, automation will allow data scientists to analyse a lot more data, in a much quicker time. Secondly, it will lead to a democratisation of the role, which could help data scientists work in closer connection to other professionals, such as maintenance engineers, software engineers and business analysts.
Far from jeopardising their career chances, automation will most likely highlight the uniqueness of their skillsets. In short, the sexiness of data scientists can only increase as technology advances.