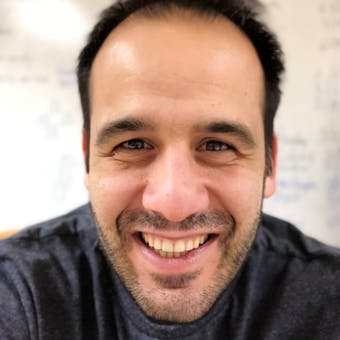 Please can you give me an overview of Ubiros?
Ondemir... Ubiros was founded in May 2018 by myself and my co-founder, Cagdas Onal, a professor at Worcester Polytechnic Institute (WPI). I was previously working in business at a Fortune 100 company, when my co-founder introduced me to the product — an electrically actuated soft gripper — I fell in love with it and we founded the company. We've had multiple successes since then, including winning the WPI Kalenian Award last year and more recently the Venture Forum Showcase.
What are you main products or services?
Ondemir... Our main product is called Gentle. Its an electrically actuated rubber fingered robot hand. The product, true to its name, can handle fragile objects without damaging them. For example, we run demonstrations of picking and placing apples, or arranging flowers in a vase.
Gentle solves the difficulty businesses face when automating the handling of delicate objects. Traditional grippers are metal and rigid, which would damage fragile objects, for example bruising fruit. Because of this, businesses use human pickers and packers to do the work instead.
Soft robotic technology has been used to try and change this, solutions developed so far have been expensive and difficult to control. Our solution uses electrical actuation, rather than pneumatics, as a more modern and easy-to-control method, to solve the handling challenge. Our technology therefore appeals to anyone handling fragile objects, such as fruits, vegetables, or bakery items like cupcakes and croissants.
What is the greatest challenge your business overcame?
Ondemir... Our product came to market with no financial backing from investors. We are currently still in the early stages; we have a team of four people and we are now raising seed funding. This means our sheet is very clean — only the founders currently have equity and we are a post revenue company. This means that when we do get investment, our business will be able to generate profit immediately as we worked through the development stage independently.
What is the main innovation you bring to the market?
Ondemir... We bring a new robotic finger design that is extremely flexible and soft in the grasping but equally rigid in other unwanted directions. Thanks to its special design it supports up to 1.5 kg of payload and uses electrical motors for actuation. This is a patent pending technology for which we have exclusive rights to.
Our goal is to offer a price point that means small businesses and even start ups can adopt automated handling technology with minimal initial investment or down payment.
How does your product tie into the growing use of automation?
Ondemir... Automation has been centred around the automotive industry for many years for applications like welding. However, the growing use of automation means that the technology is moving into new markets.
By enabling the easy automation of traditionally difficult tasks, like food handling, we are expanding the automation market into areas that were previously done manually. This means we are not competing against traditional technology but extending it into fresh markets.