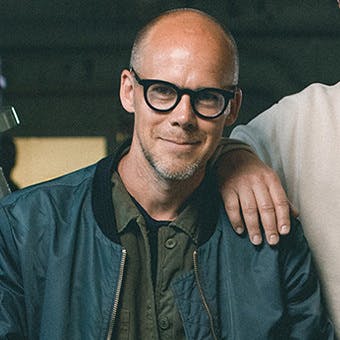 Please can you give me an overview of Stilride and how the business was founded?
Nyvang... Stilride is a design and technology start-up. We've created a unique and sustainable manufacturing process – called STILFOLD – to create electro-mobility products out of single sheets of steel. This significantly reduces the amount of raw materials and components required for production. The best way to describe STILFOLD is industrial origami. We want to reimagine how e-scooters and motorcycles are manufactured and distributed, making the process more sustainable and economical without compromising on design.
Me and the co-founder and CTO, Tue, had the idea for Stilride at a dinner party three years ago. We've been friends for many years and have travelled together around Japan and Italy. We're both inspired by the 1960s, the British Mods, Japanese culture as well as classic Italian motorcycles — and we both have backgrounds in design. At the dinner party, Tue was talking about building an iconic electric motorcycle that would be created in harmony with nature. He made a prototype out of paper — and I was sold. Stilride was born.
What are Stilride's main products and services?
Nyvang... Our first product is the Sport Utility Scooter One (SUS1). Unlike traditional scooters, which consist of a tubular frame and plastic body, the SUS1 is constructed by folding sheets of stainless steel over curves, much like origami. This results in a durable body and distinctive aesthetic, but requires fewer raw materials and reduces labour costs. It's also extremely lightweight compared to your typical scooter.
The SUS1 is the first application of our technology. In the future we want to add cargo bikes and trailers to our product offering.
What is the main innovation you bring to the market?
Nyvang... Our main innovation is our STILFOLD technology. The technology allows vehicles to be flat-packed and shipped to small manufacturers around the world to be constructed locally. All the manufacturers will need is the technology and the materials – which we can provide — to fold and fit the scooters with a hub motor and battery pack. This is a far more environmentally friendly and cost-effective way of shipping and producing vehicles than existing methods. Already, the climate impact of developing the SUS1's chassis using STILFOLD is 50 per cent lower than that of traditional scooters.
We're launching in Europe first as this is a market that relies heavily on outsourcing and has much to gain from increasing its domestic manufacturing capabilities using STILFOLD. Next, we will look to expand into other international markets.
Eventually, we want to be able to sell our technology to manufacturers and workshops so they can design and create their own products using STILFOLD.
What is the greatest challenge that the company overcame?
Nyvang... Our first challenge was turning our idea into a tangible product. We developed the technology as part of a research and development project funded by the Swedish Innovation Agency, which meant we had to create a product in just twelve months. This was hard work but it was also a major turning point for us. Once we had built our scooter's chassis, we could prove our industrial origami manufacturing technology works.
The second challenge we faced was to generate funding, but over the last year, we generated enough traction to get private investors to believe in us and our mission to pioneer a greener future for electromobility. Now we are able to start production and roll our first product out.
How do your products and services tie into the growing use of automation in the industry?
Nyvang... The STILFOLD industrial origami technique involves the use of robotics and lasers to fold sheets of steel into the shape of a vehicle's body. This process is automated and involves the use of specialist software we have created called STILWARE. The software allows the designer to envision the part and simulate the unfolding process so they can work out how to create the desired part from a metal sheet. Robots are then programmed to carry out the folding process.
Eventually, we want to empower metal workshops and original equipment manufacturers to use our STILWARE software to create folding instructions. Developers will be able to create the instructions that allow robots to automatically fold sheet metal into complex products of their design. This will enable production to be automated and location-agnostic.