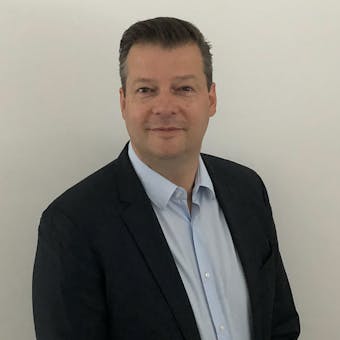 Please can you give me an overview of Brain Corp and how the business was founded?
Spruijt... The company was founded in 2009 in San Diego as a consultancy part for robotics and AI within global technology company, Qualcomm. In 2014, our CEO decided to follow his dream of starting a standalone company based on building brains for robots. He and his team of 17 people were looking into which industry would benefit the most from robotics and from more innovation and automation. They decided on the cleaning industry. Together with a manufacturer, they developed their first robot in 2016. In 2017, thanks to a big investment fund, they brought the robot to the market.
We've created a pioneering AI software that our partners use to build autonomous machines that can navigate safely and efficiently in public indoor spaces. Our platform — called Brain OS — is used not only for cleaning solutions but also for virtual touring, shelf scanning and many other applications.
In 2019, we wanted to expand outside of the US and we opened an office in Amsterdam, but our team is spread all over Europe.
What are Brain Corp's main products and services?
Spruijt... We are supporting a lot of cleaning machines, with over 16,000 robots that run our software deployed worldwide. We support our OEMs, but also expand to other solutions. We're currently working on a scrubber solution, which cannot only clean but also scan shelves in a store, which makes it easier for staff to perform analytics, gather stock data and manage in-store inventory. This will also help with one of the biggest issues in the industry — labour shortage. We want to introduce solutions that will allow staff to focus more on customers, while machines take care of the mundane tasks.
We also offer virtual touring solutions, which allow users to walk virtually through a store or building. Because all of our solutions are software-based, they can be implemented in multiple industries and applications, offering great advantages to companies.
What is the main innovation you bring to the market?
Spruijt... Before the COVID-19 pandemic, cleaning was hidden away from the public, conducted outside of customers hours. With the pandemic, cleaning has come to the forefront because everyone wants to see the cleaning process and feel safe. That's where our solutions are highly beneficial for companies.
We're also helping businesses address their work division issues by making machines autonomous so that people who operate them can do more valuable tasks and focus on customer service.
Furthermore, our platform allows users to see the simplicity of using robots, instead of the complexity of adopting them. It also encourages people to embrace robots and their advantages, instead of fearing their presence.
What is the greatest challenge that the company overcame?
Spruijt... I believe the greatest challenge we've had is the public fear of robots and the threats that they will replace human workers. Similarly, some people believe they are not ready for implementing robots or that they cannot afford to.
We've tried to allay these fears and guide customers towards suitable solutions, not problems. We want to show customers the potential benefits of robotics for their businesses. As we've noticed, the most successful robotics users are the ones who are willing to test how robots can best support their business. So, our biggest challenge was changing people's mentality about robots and helping them embrace the technology rather than fear it.
Also, using robots on a large scale is always challenging. You have to make sure that all the robots you have deployed are performing efficiently every day. We're putting a lot of time and effort into ensuring that our software is up to date and keeps up with new features on the market. Every six to eight weeks we perform a software update, and we look at feature enhancements and bug fixes. Therefore, placing a robot at a site is just the beginning of the road, not the end of it. When implementing robot solutions, companies need to ensure that their teams have a clear understanding of how to use them as efficiently as possible.
How do your products and services tie into the growing use of automation in the industry?
Spruijt... We're always trying to help our customers through interactive infographics and continuously developing the user interface of our software. We're also making use of user data to understand how best to help them integrate robots within their specific environments. Our goal is to emphasise the benefits of deploying robots in particular environments in order to get optimal results.