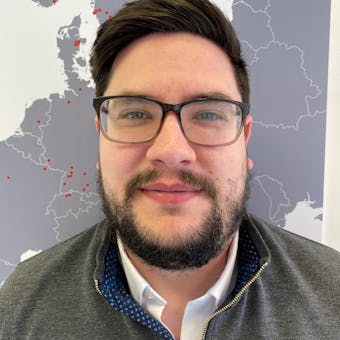 Please can you give me an overview of Element Logic and how the business was founded?
Harrison... Element Logic was founded in 1985 to optimise warehouse performance. Our first automated products were vertical carousels. At first, we wrote our software based on a stopwatch and counting the steps of warehouse workers. Now, although our methods have progressed, the core of our product remains smart automated picking technology enhanced with our own software.
In 2013, the inventor of AutoStore robots Ingvar Hognaland and our founder Kjell Blakseth met and shared ideas at a tradeshow. Six months later, Element Logic built the world's first AutoStore facility and in 2015, we began selling our AutoStore solutions outside the Nordics. The following year more than 50 per cent of Element Logic's revenue came from outside Norway, which led us to open our German office, followed by the UK and France.
In 2020, we won the full European distribution rights for AutoStore and opened full-scale operations in Poland and Benelux. Another milestone was the partnership with Right Hand Robotics to launch a robot arm with machine learning technology.
What are Element Logic's main products and services?
Harrison... Through the synergies between the tailored AutoStore hardware and our specialised software, eManager, we deliver tailor-made automated warehouse solutions. AutoStore consists of five components: an aluminium grid built to fit any space, robots that pick and deliver goods, bins to keep inventory, a controller to manage the network and infrastructure, and ports that deliver the picked goods to the operator for further handling.
With our user-friendly eManager software, warehouse operators have constant product location and inventory control, custom processes of goods received, return handling, refill, and pickings. The software integrates easily with any ERP or WMS to fit client needs and preferences. It also features built-in AutoStore operator assistance.
eOperator is a robotic arm that can be installed at a picking station and can pick items it has never seen before. Its 'brain' runs on a powerful GPU designed to process enormous amounts of data quickly while machine learning enables it to complete various tasks. The number of human touchpoints decreases dramatically, making the flow from the warehouse to the customer more efficient.
With our warehouse automation tailored to AutoStore, material flow handling is a core part of the end-to-end solution to optimise the inbound and outbound flow of goods.
What is the main innovation you bring to the market?
Harrison... Our main innovation is the concept of OneTouch Despatch, which aims to completely remove wasteful processes from a customer's operation instead of just automating existing manual processes. For example, using AMR robots instead of manual trollies, or using a pouch sorter to sequence orders rather than manually sorting in a put wall.
What is the greatest challenge that the company overcame?
Harrison... The Ocado fire, during which a warehouse burnt down two years ago following an electrical fault with a robot, and the subsequent misperception from potential customers and insurance companies who thought that the Ocado system and AutoStore were the same.
Although the concepts are similar, there are distinct differences that make AutoStore much safer. For example, AutoStore robots are made from metal, not plastic, which helps prevent fire, making them a safer option. They also have different batteries and charging strategies. Moreover, Ocado bins are perforated, which lets in the air that will fuel a fire, while this isn't the case with AutoStore robots.
Our challenge was to assure customers and insurers that AutoStore has its own unique solution and products and to reinforce our expertise in warehouse automation as well as our commitment to safety.
How do your products and services tie into the growing use of automation in the industry?
Harrison... Automation is at the heart of what we do. We address nearly all the key aspects and requirements of automation in the marketplace. We reduce the need for manual labour as our system can achieve the same throughput with significantly fewer operators, thereby addressing current labour shortages.
Element Logic requires a fraction of the floorspace and footprint compared to manual warehouses as well as other automated solutions. This means less greenfield development for new or mega warehouses.
The AutoStore system has a very small power requirement compared to others, thus reducing the carbon footprint of the business and helping with its sustainability goals. In some cases, we can run the whole system from renewable solar panels fitted on the roof of the facility.
Our automated solution is completely flexible and scalable, so it can easily adapt and deal with market shifts – from COVID-19 to the booming e-commerce market.