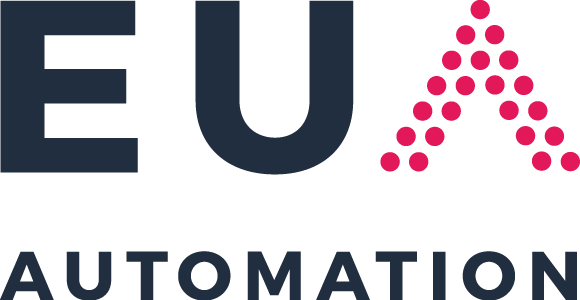 Our Logo
Our logo is a visual representation of who we are and what inspires EU Automation to drive forward as leaders in the automation industry. It is made up of two parts, the wordmark and an arrow we like to call a 'Beond'.
It is a modern take on a corporate and traditional identity. The modern twist coming through in the bright colours, flat design and simplicity of the overall design. The wording is a kind nod to our previous company name "European Automation", now shortened to make it sharp, snappy and catchy.
The stocky lettering is much like our company: bold and unflappable. We're clean-cut and want to make our service as human and transparent as possible, so our logo legibility and minimalism is a key reflection of this.
Beond Symbol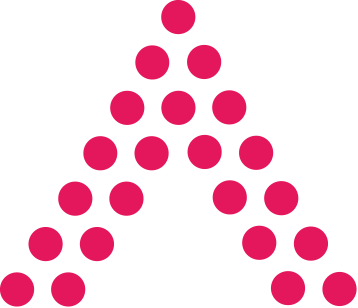 The Beond is the shorthand icon for our brand. Although the full logo is our official signature, a Beond is a shorter sign-off, much like someone's initials.
Arrows are a positive symbol for choice, change and movement. Arrows encompass all of the brand values instilled in the EU Automation team of innovation, ambition, helpfulness and to be human. The name 'Beond' showcases our passion to always go beyond the call of duty.
The Beond is made up of lots of smaller circles. This is because we didn't want to show an arrow as one big block shape, but instead, showcase the visualisation of lots of components coming together to form a bigger picture. These separate circles represent all the members of our fantastic team here in Staffordshire, and even signify the many hundreds of thousands of parts and parcels we've managed to source from across the world to provide a solution.
Significant consideration went into choosing the amount of circles that ensured a Beond is recognisable in both small and large format. 22 circles was the perfect number to guarantee legibility in all sizes
Logo Usage
Our logo is the symbol of our brand and we have clearly defined guidelines to make sure it's always looking it's best.
We've set a minimum size for usage to ensure legibility and the circles of the Beond are always clear and crisp.
Breathing space is always an important consideration. Our logo should always have clear surrounding space to showcase it. There are set perimeters where no other element should intrude. Ideally, the logo should always have as much free space as possible around it.
Colourways have been paired up to ensure brand consistency and legibility across the logo application. The Beond shows up best in an accent colour (options are highlighted on pages 50 - 52). Primarily it will be shown in
Coral but Canary and Emerald are also viable options. The wordmark is well-defined in either white on dark background and Imperial on lighter backgrounds.
When working with a partner and we need to co-brand our communications, we want both our brands to be showcased as best as possible. Align the logos either through the logo baseline or the bottom of the capital 'EU', whichever is balanced best. The logos should be of equal size in amount of pixels rather than specific height and width, so both logos have equal visual impact.
Logo Misuse
It is important that the logo is presented correctly in all instances. It is our signature to the world and should be carefully considered when resizing, placing with artwork and recolouring to suit different situations. We have outlined some poor practices of logo use which should be avoided.